Dental Marketing Strategies
You've worked hard to get to where you are now. You studied through dental school, did your on-the-job training and set up your own practice. Now you're ready to fill cavities and clean teeth, to help everyone who needs oral care consultation.
You need patients to do this; maybe you're not getting as many as you should be or would like.
Marketing matters when it comes to dentistry. The best practice in the world can't help anyone unless people know about it. That's why you need tactics that will give your practice the attention it deserves.
As I myself am a dentist and a digital marketing enthusiast, today I'm going to explain how to get results. Having helped several dental practices in digital marketing. That's why I'm giving you an in-depth and inside edge look at the top Internet marketing tactics that'll make you unbeatable!.
Below are the points I'll be explaining in detail in a series of 4 articles:
1. Branding
2. Your Website is Your Foundation
3. Quantity and Consistency with Directories – Think Local
4. Social Media Strengthens Relationships
5. Reputation is Everything
6. Call Tracking Gets Your Phones to Ring
7. Make Visitors Feel at Home with Live Chat
8. Video Marketing Gets Viewer Attention
1. Branding
I'm just going to give a glimpse about 'BRANDING' through my presentation to understand
'What is Branding?' Branding is something we hear a lot about these days in the business world. So, what exactly is branding? And why should you, as a dentist, be concerned about it? This post will give you an overview on branding, explaining the basic details and how you can build a positive brand for your dental practice.
 Do leave your comments for clarification.
2. Your Website is Your Foundation
Let's start with your website. Wait, don't have one? Don't worry; we will guide you through process of getting you a money vending website!
A website lives or dies by its content. You need to make sure that what you have to say is informative, interesting and up-to-date. That's what will make your website rank well on the search engines and turn visitors into customers. Be sure to regularly post new content on your site. You're an expert on dentistry, so use a blog to show off what you know!
https://staging.dentalreach.today/dental-education/how-to-use-your-mobile-phone-for-dental-photography/
 Quick Fact: Over 90% of visitors who read headlines will also read the call to action.
Headlines are important: The terms that people use to find your site on a search engine are known as 'keywords.' Your content needs to reflect the keywords that visitors are using. If you want to be found for a particular keyword, like dental x-rays, make sure that you have a page for it.Your site also needs to offer a good user experience. Look at your site the way a visitor would. Can you easily get to where you want to go? Do you know how to engage?
Remember: you only have a visitor's attention for about seven seconds. If it takes longer than that for them to do what they want, they're going to look elsewhere. You must pay attention to the fold. The fold is the bottom edge of the browser window. When someone visits your site, they'll have to scroll down to see anything below that. It's critical for all of your important information — your call to action, and  links to other and so to be immediately visible. As far as most visitors are concerned, anything beneath the fold might as well not be there at all. 
 Quick Fact: 50% of visitors to the average website will leave without buying anything.
 Responsiveness
Did you know that mobile searches are very close to surpassing desktop searches? Your site has to be responsive. This means that visitors can enjoy the same user experience whether they're using a desktop, a tablet, or a smartphone.
Calls to Action (CTA)
For all of the importance of content, the one element you cannot forget is the call to action (CTA). This is undervalued by many practices, but is very important. A bad CTA can cost you patients. By focusing on content/CTA, you can leverage or monetise your traffic, and increase your chances of converting visitors into patients. It's all about these conversions. in the end!
"Check Your Website the Way You Check Your Patient's Teeth"
Quick Fact: The average bounce rate is around 50%.
Maintenance and Consistency
Like everything else, websites require maintenance. You need to remember that Google always has its eye on your website. If problems appear and aren't fixed, your rankings could start to drop.
It's important to routinely check your website for problems, like 404 errors. Take action once you learn about these. The sooner you get them fixed, the better. Think of it this way: you work hard to make sure that your practice meets the most rigorous standards of dental care. Your website should reflect the same level of dedication.
Information is critical when running a website. You need a way to see how many people are visiting, where they're coming from, and how long they're staying, to give just a few examples. This gives you crucial information for improvements and it is what ties together all of the tactics discussed in this document.
By seeing and understanding the data, you'll know what you need to do. If people are bouncing from a certain page, or aren't responding to an ad, take quick action to address it. You can also use this data to find out who your customers are. If there's a specific demographic, tailor your marketing accordingly.
Do leave your comments for clarification.
Update:
Top 10 Dental Marketing Strategies for 2022
If you are a dentist, then you need to be aware of all the dental marketing strategies in order to boost your business. This is the reason why we are going to share with you some of the most effective dental marketing strategies that can help you to increase your revenue.
Optimize your Google My Business page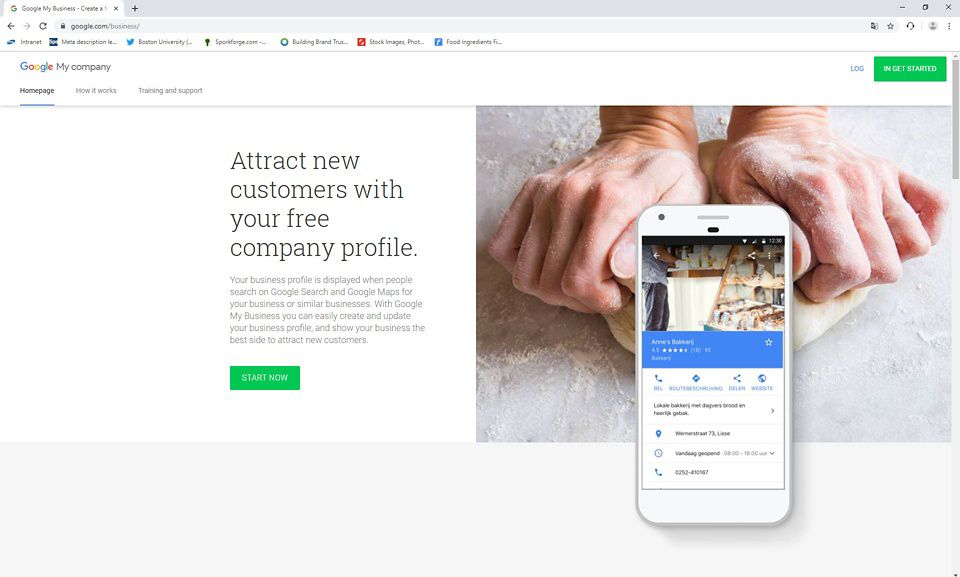 Source: Google my business
Google My Business (GMB) is a tool in the digital marketing toolbox. GMB allows you to promote your business in the online marketplace, even if it's not actually located in an actual store. The GMB page is an extension of your storefront and provides a convenient way for customers to find you and book appointments. You don't need to actually own a brick and mortar store, just a website.
It's easy to set up your Google My Business page and start collecting reviews. It's also free to do so! The first step is to click the Create Your Business button, and then fill out your business details.
Start a blog
Blogging is also one of the best dental marketing strategies, as it can be a great way to promote your dental clinic. A blog will help you to get more traffic and can increase your visibility in the market. If you have a blog, then you will get many visitors from search engines and social media.
Few you can try for free:
https://staging.dentalreach.today/dental-technology/7-benefits-of-publishing-in-dental-magazines/
Create YouTube videos
If you have a Youtube channel, you can utilize it as a platform to create informative video tutorials for your dental patients, offering them valuable insights into your services and procedures. This approach not only strengthens the connection with your patients but also provides an opportunity to showcase your expertise. With the availability of free online YouTube video editor tools, you can effortlessly refine and enhance your content, ensuring a professional and polished presentation. By incorporating this user-friendly tool, you can easily edit your videos to deliver a seamless and engaging experience to your audience.
Offer online courses
If you are new in the dental field then you should offer online courses to your clients. This will help them to learn more about your services and it will also give them an opportunity to ask their doubts and queries.
Get Google reviews
You can get Google reviews from your clients and patients. You should encourage your clients and patients to leave their reviews on Google. You can get positive reviews as well as negative reviews, but you must be careful while reading the reviews.
Make the most of Instagram
Instagram is a valuable tool that can be used by a variety of different industries. You could say that it's a photo sharing social media platform. It's one of the easiest ways to get your message out and interact with your audience. While you don't have to limit yourself to just a photo, it's a great way to share information about your practice. You could offer discounts, offers and even a giveaway for your patients. Use relevant hashtags that fit your practice.
Lastly, one great tactic you might want to try is utilizing video ads on Instagram Stories during off-hours when your audience would normally not expect it (e.g., weekends, evenings).
https://www.instagram.com/p/CakB3bOhoQs/
Have an informative website
An informative website will help you to attract more dental clients and patients. You can create an attractive website and share your information and services with your clients and patients.
Join dental associations
If you are interested in dental marketing strategies then you should join dental associations. By joining a dental association, you can get many benefits like discounts, coupons and other incentives.
Host seminars
If you are new in the dental field then you should host dental seminars to attract more dental clients and patients. This will help you to get more knowledge about dental services and it will also increase your confidence level.
Conclusion:
So, these were some of the best dental marketing strategies that you should consider for increasing your revenue. I hope these tips will help you to grow your dental business and get more clients and patients.